React JS framework is used for Dynamic web apps and we build innovative web applications in React JS development environment that meets all your requirements.
Infunity Technologies grasp the effectiveness and stretchability of React.JS for developing collective UI of large scale enterprise applications. We experienced development team build best and interactive ReactJS solutions that always control data updation and syncing without any page reloading. We provide ReactJS solutions those are simple, scalable, fast and very user friendly for your web application. We always use the open source ReactJS framework to develop different kind of quick and attractive user interface. ReactJS being a component based technology, it always helps development team to divide and reuse different components for multiple purposes. It is always a simple way to develop interactive UI with React that efficiently updates and renders just the right components 
What should a good eCommerce website include?
Client Reviews
See why Clients Loves Us
"They are timely, efficient and use best practices in their development work." JUNE 25, 2019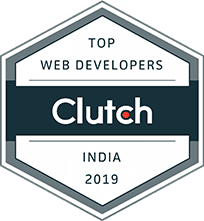 "The quality of the coding and in general work done has been very high. I would recommend them." JAN 19, 2019
React Native App Development
React Js App Development Process
Project Requirement Gathering
We discuss the requirements with the client in order to get in depth knowledge of the process, provide required suggestions for the project in advance.
01
Final Delivery
We schedule a meeting with client to show them first draft and work on the client feedback before launching the project.
04
Analysing and Wireframing
We start working on prototype and share this with client for the review to ensure that everything is covered before proceeding to the design phase.
02
We test the project thoroughly along with security audit and report all outstanding issues to development team for the first draft.
05
Graphic Design
In this phase, we provide few screens and logo options to the client for their feedback before start working on the development process.
03
Development
Our dedicated development team start setting up DB Structure before creating functionality and other backend modules.
06
Get a highly efficient team with a host of business benefits
What is the advantage of using react JS?
There are lots of reasons of being React has become so popular so quickly and became a trending technology. Every developer knows that this is very complicated to working with the DOM APIs. Working with virtual browser is much easier than working with real browser and React basically gives developers the ability to work with a virtual browser.
Is react JS difficult?
No, React is very easy to learn and start implementing within project, especially if you are a developer who has already working experience with JS and well familiar with code base. Being a React JS development company, Infunity Technologies always ready to serve our clients with best possible solution towards their ideas.
Is react better than angular?
Infunity technology always recommend React JS to our clients. There is a large difference between React and Angular. React uses one way and Angular uses two way binding. For the large scale project, React provide better results with a better data overview.
Here are the best applications of our portfolio
Infunity Technologiesis a web and mobile app development company based in India, established in 2015. We are always ready to help Brands and Startups those are having an idea and want to convert into web or mobile app through our problem solving skills.
Plan to Start a Project
Our Experts Ready to Help You