For being the best Web development company, our common goal is to help our clients by providing them with robust web applications to increase their revenues
We Infunity Technologies, as a website development company knows that development is one of the most important factors which helps the website to look user friendly and run smoothly on all possible platforms. Enhancing the interaction of the end user eventually leads to less bounce rate, more customer engagement on the website. Our clients always have a great experience with our website development services.
As we are in website development services since last 5+ years, we are having web technologies expertised and have successfully delivered numerous websites to our clients within the timeline along with good quality results. We include clients in PMS for better transparency and tracking the project process to help them to achieve realistic goals.
We deliver customized website solutions to suit the clients requirement of businesses across industry verticals. We are always ready to help you at any step of your website development. Our dedicated and experienced developers are adept at leveraging latest & trending technologies that changing market dynamics to customize every aspect of website applications. We are expert in providing fully functional, dynamic, highly interactive and responsive web solutions.
PHP is a server side scripting language that is used to create dynamic web pages that can interact with databases. Our experienced development team is ready to provide you desired website application solution.
Java web applications are running inside a web container on the server. The container provides a runtime environment for Java web applications.
Django is a high-level Python Web framework that helps for fast development and clean, pragmatic design. Django makes it easier to build better Web apps more quickly and with less code.
Infunity Technologies is an open source development company offers web based application software development services with it's highly experienced developers. Open source application is usually developed as a public collaboration and made freely available.
A Content Management System (CMS) allows you to manage the content on your website the way you want. We offer CMS-based website development services wherein the selection of framework is chosen as per business requirements and clients' preferences.
Our experienced WordPress developers team have technological competence in WordPress framework and they have been continuously upgrading their skills in order to serve our clients requirements better.
Being an extolled Magento website development company, we can design and develop your eCommerce store with unique and attractive design in average cost.
Our experienced Shopify eCommerce website development team helps you to grow your Shopify Web Store with their great skills. We always try to do everything out of the box. Let's create your Shopify store today.
Joomla is the most widely used PHP/MySQL-based Content Management System in the world. Our Joomla development team having great skills to build a custom Joomla website that will help you to scale up your online business.
JavaScript is a programming language that lets website developers design interactive sites. With the help of JavaScript, a web page start performing dynamic behaviour. We have used JavaScript in most of the projects during the development where it is required.
React is a declarative, efficient and flexible JavaScript library for building user interfaces and allow to develop new features without rewriting existing code.
Node.js is actually not a framework or a library, but a runtime environment, based on Chrome's V8 JavaScript engine that helps developers for better efficiency and overall productivity of the application.
AngularJS is an open source application development framework that helps you extend HTML vocabulary for your application. The resulting environment is extraordinarily meaningful, readable and quick to build.
Vue. js is very small in size, combined with other modern tooling, supporting libraries and focuses on the view layer, offers a lot of functionality for the view layer and can be used for building powerful single-page web applications.
Client Reviews
See why Clients Loves Us
"They are timely, efficient and use best practices in their development work." JUNE 25, 2019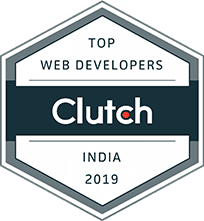 "The quality of the coding and in general work done has been very high. I would recommend them." JAN 19, 2019
Services
Our Other Web Development Services to Achieve
Business Goals
Here are the best applications of our portfolio
Infunity Technologiesis a web and mobile app development company based in India, established in 2015. We are always ready to help Brands and Startups those are having an idea and want to convert into web or mobile app through our problem solving skills.
Plan to Start a Project
Our Experts Ready to Help You